We Stay Up To Date With The Latest Skills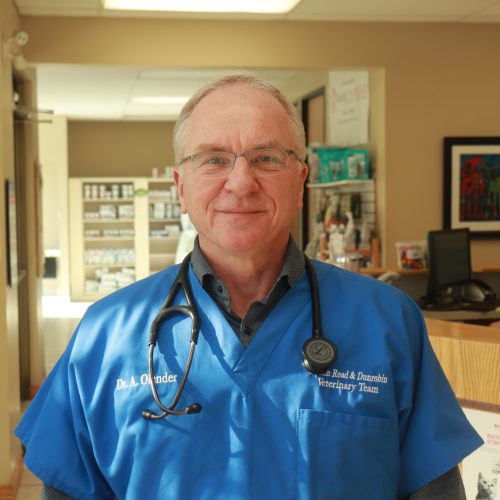 Dr. Andrzej Olender graduated in 1990 from the Western College of Veterinary Medicine in Saskatoon, Saskatchewan. He opened his small animal and equine mobile practice on March Road in 1991. Soon after, in 1994, he acquired the Dunrobin Veterinary Clinic. "Dr. O.", his wife and four children have lived in North Kanata since the early 1990s. They share their home with two cats named Vegetable and Zelda. Why Vegetable? Well, she was found at a local grocery store in the produce department, hence her name. After being brought to the March Road Veterinary Hospital, Veggie was adopted by the family. In his spare time, Dr. O. likes to spend time in his family's garden (it's a big garden!), downhill skiing, and learning new languages. Although Dr. O. has special interests in many aspects of veterinary medicine, his main focus is in surgery, ultrasound, and dentistry. He is one of the few veterinarians in Ottawa repairing cruciate ligaments with TTA (Tibial Tuberosity Advancement) surgery and various extra-capsular techniques, like the Arthrex TightRope, the SwiveLock Knottless techniques, and the Arthrex Corkscrew and FASTak techniques. Dr. O enjoys mentoring new veterinarians and students and insists on continuing education.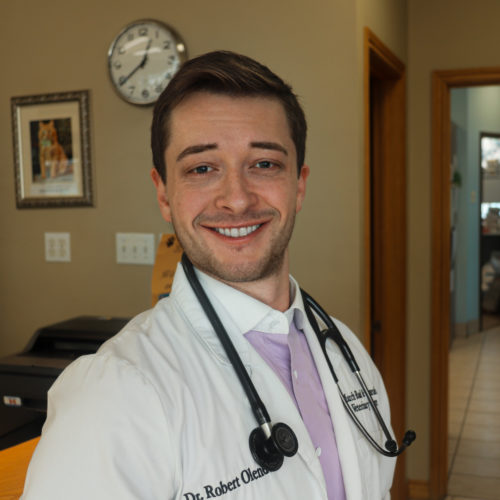 Dr. Robert Olender graduated with distinction from the Ontario Veterinary College in 2017 after completing an Honours Bachelor of Science degree in biochemistry at the University of Ottawa. Robert was born and raised in Kanata and was thrilled to return to the family practice after graduation. He has worked at the March Road and Dunrobin hospitals since he was young, wearing several different hats working as a kennel assistant, receptionist, and taking many responsibilities of a technician. Apart from his coveted puppy/kitten appointments, Robert has a keen interest in dermatology, surgery, and preventative medicine. Robert enjoys hockey, fishing, travelling, and manages to make the odd quilt in his spare time. He shares his home with the love of his life, Norma J. Jean. She is a beautiful young tabby who loves exploring different parks around Ottawa on her harness
Registered Veterinary Technicians
Vicki is a new graduate from Algonquin College's veterinary technician program. She worked previously with exotics, and at the University of Ottawa in their vivarium. She shares her home with her fiancé Richard, their three cats Dorian, Henry and Vinny, and their now gigantic turtle,Turt Renolds. She loves learning new things, and looks forward to honing her skills with our team.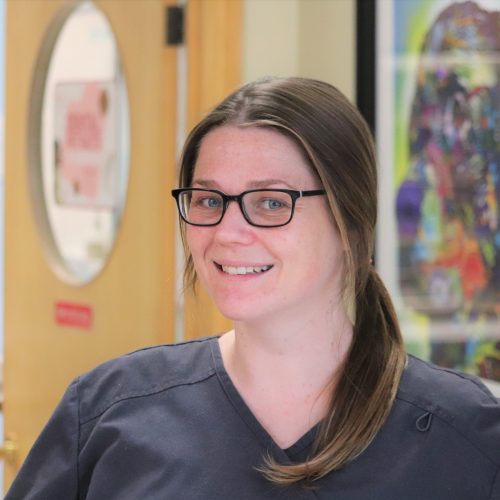 Hayley loves all animals large and small and has dedicated her life to their care and happiness. She has worked in rescue and clinical settings before graduating from Seneca College's Veterinary Technician program in 2018. She has recently moved from Toronto with her husband Brett, their two cats, Moose (not a big moose… just a little moose) and Bean (best friend of Moose). They also have a dog named Mario who was adopted on a spay-neuter trip in Northern Ontario. She has particular interest in emergency, critical care, and laboratory procedures. She is excited about leaving the traffic behind, learning about the Ottawa area, and furthering her passion on our team! Hayley is currently on maternity leave.
Client Service Representatives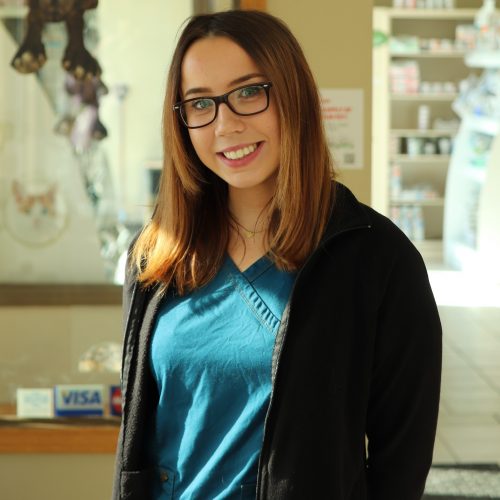 Maya joined the team in 2017. She has a love for science and is currently studying Biological Foundations in Cognitive Science at Carlton University. She has a love for all animals and has an Australian Shepherd named Kevin and a cat named Piglet.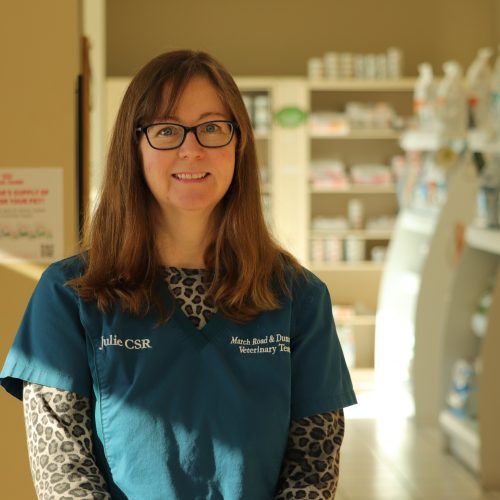 Julie is originally from Northern Ireland. Her family emigrated to Canada in 1974 settling in the suburbs of Toronto. Julie completed her Animal Sciences diploma course in 1998 and eagerly entered the animal care industry shortly thereafter. An avid animal lover, Julie is a "lifer" having never lived a single moment without having a pet her entire life! Wife, mother and grandmother, Julie is kept busy with her family, work and pets. Which include three misbehaving cats, Copper, Simon and Midnight and her granddog, Scotch. In 2017, the whole family moved to Dunrobin and Julie was thrilled to join the March Road and Dunrobin team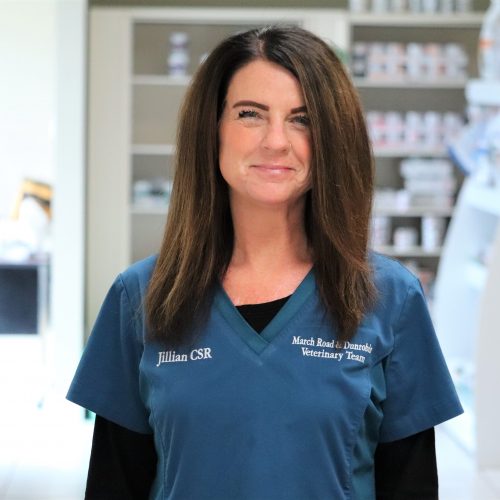 Jillian started at the March Road Veterinary Hospital in September 2018. She loves all animals and enjoys greeting pets that come through our doors with a treat, a pat, or both. Jillian has recently returned to Ottawa and is enjoying her new career in the veterinary medicine world. In her spare time, she enjoys hitting the gym, volunteering as a cat sitter for friends and family, and spending time with her 23 year old son.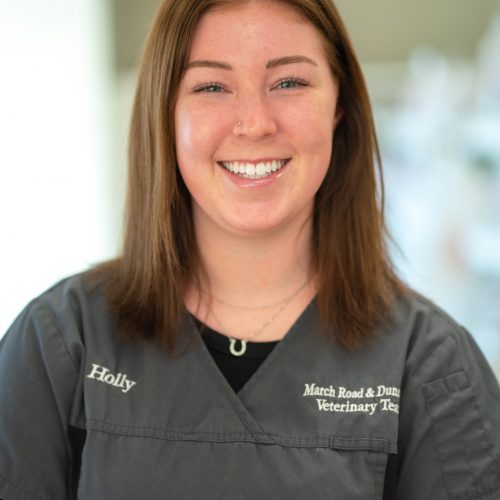 Holly joined the team in August 2019. She has a mixed puppy named Payton who is full of energy, so Holly's hands are always full. If she is not with Payton, Holly is out riding her horse Charlotte or at work.
Tobie decided to combine her knowledge of business practices with her life-long passion for animals after several years in the high-tech industry. She joined the team as a CSR/VA in 2007 after graduating from the VA program at Algonquin College. Tobie quickly moved into a managerial role overseeing the day-to-day operations of the practices. She enjoys spending her free time on her little hobby farm with her husband, two dogs, two cats and her horse.